US: Michelle Obama hits campaign trail with Clinton for first time
Comments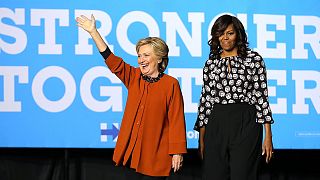 US First Lady Michelle Obama has been helping to whip up support for Democratic presidential candidate Hillary Clinton.
She has joined her for the first time on the campaign trail, in North Carolina.
It is a battleground state that could play a pivotal role in the race between Clinton and her Republican rival Donald Trump.
"She (Clinton) has more experience and exposure to the presidency than any candidate in our lifetime. Yes, more than Barack, more than Bill," said Michelle Obama.
"So she is absolutely ready to be commander-in-chief on day one and, yes, she happens to be a woman."
Speaking in Ohio, Trump has promised to bar Syrian refugees from entering the US – if he wins the White House.
"A Trump administration is going to suspend immigration from terror prone regions and we will suspend the Syrian refugee programme. That was easy," he said.
"We are not going to take to risk when it comes to the safety of the American people, no longer."
Trump also claimed again that Clinton was corrupt, highlighting new emails released by Wikileaks.
The New York businessman currently trails his Democratic rival in most national polls.