Infant death toll rises in fresh Syria attacks
Comments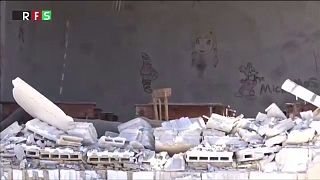 Syrian rebels have shelled two neighbourhoods in government-held western Aleppo, killing at least five children and a baby, a monitoring group reports.
The Syrian Observatory for Human Rights says the rebels are preparing for a new offensive intended to break a siege by President Bashar al-Assad's forces in western Aleppo.
The shellings came a day after some 35 people were killed in an air strike on a school in Idlib. 22 children died in the attack, which the US and France have blamed on Russia or Syria.
United Nations children's agency UNICEF says five schools have been hit in just two and a half weeks. It condemned the attacks as 'simply inhuman', while the European Union labelled them 'totally unacceptable.'
UN Security Council
Meanwhile, at a meeting of the UN Security Council, Moscow called for more evidence to back up accusations that Syrian government forces carried out chlorine gas attacks on their own people, dashing the West's hopes of slapping sanctions on those responsible for the attacks.
Ambassador to the UN Vitaly Churkin told the Security Council Damascus should carry out its own, national inquiry into "the chemical incidents confirmed by the JIM" (Joint Investigative Mechanism).
"We believe that the proof is not there for any big punitive action to be taken, it's simply not there. Let's continue the discussion. We will continue to studying the report – please read the remarks I made (in the Security Council) – they are very very serious technical remarks which bring to light certain weaknesses in the work of JIM," he said.
The JIM investigation concluded Syrian government forces were responsible for three toxic gas attacks. France, the US and the UK now have until October 31 to persuade Russia to accept a 12-month extension to the mandate of the inquiry.