France, US say Russia or Syria responsible for air strike on Idlib school
Comments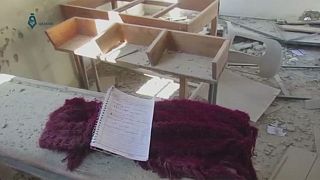 The US says that Russia or Syria was behind the deadly air strike that hit a school, killing 26 civilians, most of them children.
Moscow has denied it was responsible for the attack in Idlib.
Videos posted online appeared to show aftermath of the shelling in Haas village. Images showed people rushed to clinics and a child calling desperately for her mother. Scenes which caused international outrage.
One senior UN official described the assault as a tragedy and if deliberate a war crime, amid calls for an investigation by the International Criminal Court.
Syrian or Russian bombing of school in Idlib is a potential war crime and must be investigated. End unlawful attacks on civilians in Syria. pic.twitter.com/pMiO4hDcbB

— AmnestyInternational (@AmnestyOnline) October 27, 2016
The French Foreign Minister Jean-Marc Ayrault backed the US claim, saying that the attacks "could not be the work of the rebels, as you need planes to launch bombs". "It's either the Syrians or the Russians", he concluded.
Unicef has recorded at least 38 attacks on schools in Syria in 2016 in both government-controlled areas and rebel-held territory
Rights groups have criticised Syria, backed by Russia for targeting civilian infrastructure, both responded that they are attacking the rebels.
In an emotional speech, the UN's humanitarian chief described the Security Council's, and Russia in particular's failure to stop the bombing of rebel-held eastern Aleppo 'our generation's shame', and called on the organisation to take a stand to prevent the continued bloodshed.