Mediterranean migrant death toll reaches all-time high
Comments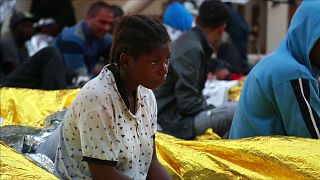 The United Nations refugee agency says the Mediterranean death toll has soared to an all-time high, with at least 3,740 migrant deaths so far this year.
It almost matches the toll for the whole of 2015.
The figures come as NATO says it will provide support to the EU's maritime, migrant mission off Libya's coast and maintain its presence in the Aegean Sea.
This, despite a request from Turkey to put an end to the operation there.
"I think it's important to understand that the NATO presence in the Aegean Sea adds value because it is a platform for enhanced cooperation between a non-EU NATO ally, Turkey, with Greece and improved cooperation between Turkey and the European Union," said Jens Stoltenberg, NATO Secretary-General.
Any end to the NATO mission, agreed in February, would sound alarm bells in the European Union.
It is facing its worst refugee crisis since the end of World War Two – driven by the five-and-a-half year war in Syria that has displaced some 11 million people.