Belgium reaches deal to break deadlock over EU-Canada free trade agreement
Comments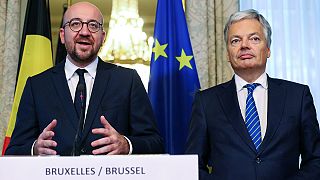 Belgian politicians have reached an agreement to back a landmark free trade deal between the EU and Canada.
The signing ceremony for the Comprehensive Economic and Trade Agreement or CETA had been called off after the French-speaking region of Wallonia vetoed the deal.
The Belgian premier Charles Michel hailed the agreement, saying it was 'an important moment', adding it was now up to the country's parliaments to agree by Friday night, meaning it could be signed within days with approval from the other 27 EU countries.
Belgian agreement on #CETA . All parliaments are now able to approve by tomorrow at midnight. Important step for EU and Canada

— Charles Michel (@CharlesMichel) October 27, 2016
The EU Council President Donald Tusk said he would wait until the process was finalised before calling Canadian Prime Minister Justin Trudeau back to sign the agreement. On Wednesday evening, Trudeau had cancelled plans to travel to Brussles for summit for the deal to be signed.
I am glad for good news from PM CharlesMichel</a>. Only once all procedures are finalised for EU signing CETA, will I contact PM <a href="https://twitter.com/JustinTrudeau">JustinTrudeau

— Donald Tusk (@eucopresident) October 27, 2016
The deal, seven years in the making, had been stalled by Wallonia which was holding out for stronger safeguards for jobs, the environment and consumer rights.
Small but well disciplined anti-Ceta demo outside EC caught fuzz completely by surprise pic.twitter.com/ZDEAU1Tvuf

— Bruno Waterfield (@BrunoBrussels) October 27, 2016
Coming soon after Brexit, the tug-of-war and the potential collapse of the deal has raised concerns in the UK over its future negotiations on trade when it leaves the union.
Key Qu: If the EU can't pass CETA, what hope is there for any future trade deal with other global partners, let alone UK? https://t.co/cmy38nsYxd

— EU Public Affairs (@EUPublicAffairs) October 27, 2016