Mexicans don skeleton disguises for a pre-Day of the Dead parade
Comments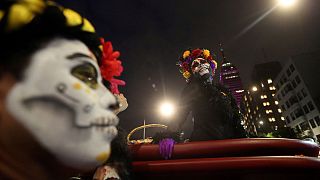 Hundreds of costumed revelers joined a parade in Mexico City at the weekend , disguising themselves as the iconic Mexican skeleton figure known as " La Catrina" or "Elegant skull".
La Catrina was originally created by cartoonist Jose Guadalupe Posada in the 1900s as a gesture of fun at Mexico's wealthy gentry. The figure has now become the centre of pre-Day of the Dead celebrations.
#CalaverasFestival pays homage to José Guadalupe Posada born in Aguascalientes. Internationally known for his engravings and illustrations pic.twitter.com/WlIMclyxkP

— Embamex Jamaica (@EmbaMexJam) October 24, 2016
Parade participant Edith Gonzalez said although La Catrina had become more associated now with other holidays celebrating the dead it was a way to standout from Halloween and to celebrate Mexican traditions.
Hundreds of women dressed as "Catrina" – Mexico's elegant skeleton lady – participated at an annual parade in Mexico City on Sunday. SUN0218 pic.twitter.com/CtyygARMzb

—

CBS

Newspath (@cbsnewspath) October 24, 2016
All Saints Day on November 1, and the Day of the Dead on November 2, are traditionally two of Mexico's most important holidays which interweave Spanish influences with indigenous ancestor worship, much celebrated in Latin America.