Migrant anger grows over expected demolition of Calais camp
Comments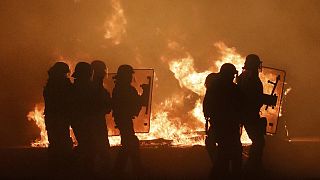 Fires were lit and rocks thrown on Sunday evening (Oct.23) as groups of migrants showed their anger ahead of the demolition this week of the massive camp in Calais.
A block of portable toilets was set ablaze on the road leading to the nearby ferry terminal.
Within hours, 60 buses are set to transport 3,000 migrants to reception centres scattered around France.
By week's end, the camp is to be emptied of an estimated 6,500 migrants and destroyed.
For some its been their home for many months with them only tolerating the squalid conditions by clinging on to the hope of getting to Britain.
The French authorities have warned of further violence with the reported arrival in the camp of over 150 far-left militants.
Tear gas and fires mark the beginning of the end for the Calais 'Jungle' camp https://t.co/hqJ0ULrKuH

— Today's News Story (@TodaysNewsStory) October 23, 2016