ICC finds former DRC vice president guilty of bribing witnesses
Comments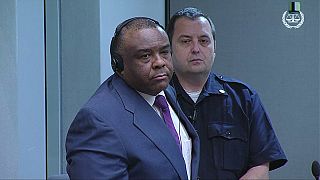 The former vice president of the Democratic Republic of Congo has been found guilty of bribing witnesses at the International Criminal Court in The Hague.
Video: Watch #Bemba et al. judgment delivered today (entire hearing): https://t.co/WqHEPBU1iX

— Int'l Criminal Court (@IntlCrimCourt) October 19, 2016
Jean Pierre Bemba and his legal team used secret phones and coded language to instruct witnesses in exchange for cash, promises of relocation, computers and other bribes, the court found.
He recently began an 18 year sentence after being convicted by the court a few months ago for war crimes and crimes against humanity.
Bemba was found guilty of overseeing a campaign of rape and murder in neighbouring Central African Republic more than a decade ago.
Bemba was a rebel leader in eastern Congo before being promoted to vice president in a peace deal that ended the deadliest conflict since World War Two. An estimated 5.4 million people died.
He now faces five more years in jail, or a fine, or both.