DR Congo: ICC overturns Bemba verdict
Comments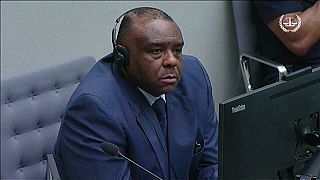 Congolese ex-Vice President Jean-Pierre Bemba is acquitted of five counts of war crimes and crimes against humanity.
Judge Christine Van den Wijngaert says: "Mr Bemba cannot be held criminally responsible under article 28 for the crimes committed by MLC troops during the CAR operation".
It's a huge blow to prosecutors and this was the first ICC case with a major focus on the use of rape as a weapon of war according to the Open Society Justice Initiative.
Judge Christine Van den Wijngaert says: "In relation to the remaining criminal acts, it enters an acquittal because the errors found with respect to necessary and reasonable measures extinguish his responsibility in full."
Bemba's case had been seen as cementing the precedent that officials may be held liable for the actions of troops under their command.
The 55-year-old headed the Movement for the Liberation of Congo (MLC) during the early 2000's and sent fighters to CAR in 2002 to help quash an attempted coup.
Until his verdict was overturned, he was one of only four people convicted by the permanent war crimes court in its 16-year history.
His case marked the first time the ICC focused on rape as a weapon of war and the first time a defendant was convicted for crimes committed by those under his command.