'Family of 14' killed in Russian strike on Aleppo, say White Helmets
Comments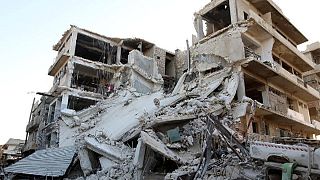 There are reports that more than a dozen people from the same family have been killed in an airstrike on eastern Aleppo as the Syrian government continues its Russian-backed campaign.
Rescue workers known as the "White Helmets" say Russian jets attacked opposition-held areas of eastern Aleppo today.
They claim 14 members of the same family were killed, including six young children and two infants.
Syrian and Russian forces say they only target militants.
A Syrian military source said the army had targeted terrorists – its term for all rebel fighters – in three areas of Aleppo today, killing seven.
Meanwhile a video – independently-verified by Storyful – has emerged showing emergency workers rescuing a 16-year-old boy who was hanging precariously from the upper floor of a destroyed building.
It happened in Qaterji, a district in the rebel-held east, that had been struck by an airstrike that reportedly killed 15 people.
On Sunday Russian state TV claimed at least three people were killed and around two dozen injured on Sunday after what it said was rebel shelling of the district of Said Ali.
Also on Sunday, Turkish-backed rebels took the Syrian town of Dabiq from ISIL militants forcing the jihadist group from their symbolically important stronghold, some 30 kilometres north of Aleppo.
BREAKING: Air raids on rebel-held northern Syrian village kill at least 23 people, W. #Aleppo: Opposition activists – AP

— Conflict News (@Conflicts) October 17, 2016