EU says Russia's Aleppo attacks 'may amount to war crimes'
Comments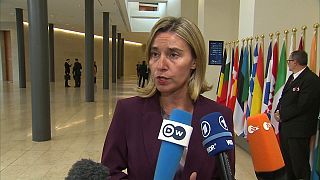 EU foreign ministers urged Russia and Syria to end their bombing of Aleppo, warning the attacks "may amount to war crimes."
Meeting in Luxembourg, the 28 ministers hit out at the "clearly disproportionate" violence in the besieged Syrian city, pointing to the deliberate targeting hospitals and schools.
But they made no decision on whether to slap sanctions on Moscow over its conduct in Syria. Those decisions are only taken by heads of state and government.
EU leaders will meet in Brussels on Thursday for a two-day summit.
Ministers warned that the bloc will act "swiftly, according to established procedures, with the aim of imposing further restrictive measures against Syria targeting Syrian individuals and entities supporting the regime as long as the repression continues."
EU sanctions are likely to include travel bans and a freeze of assets belonging to political figures and top military officials accused of crimes.
But Marc Pierini, a former diplomat now with the Carnegie Europe think-tank, said the EU remained divided on whether to go ahead with those steps.
"For the time being, the EU is confined to managing humanitarian aid in this Syrian crisis," Pierini told euronews.
"It knows how to mange these kind of things. But it also shows the lack of a political role (for the EU), which corresponds, more or less, to the will of the member states."