'Other tools in the toolbox' - message from EU foreign secretaries on sought after Russian sanctions
Comments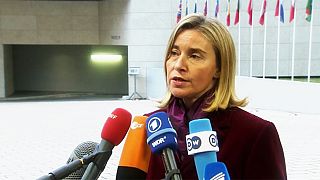 Foreign secretaries from EU member states cannot foresee sanctions being imposed against Russia, who support the Assad regime currently conducting a renewed bombing campaign in the Syrian city of Aleppo.
Meeting in Luxembourg to discuss the worsening humanitarian crisis in the besieged Syrian city, politicians said that sanctions are not the only tool at their disposal.
European Union High Representative for Foreign Affairs Federica Mogherini said: "The European Union doesn't only have sanctions in its toolbox, we have many other instruments we can use. We have the instruments for pressure, we also have leverages for good and so a good mix of the two I think is always wise and useful.
"Today we will focus on all tracks, but again, on sanctions on Russia – that was not proposed by any member state at this moment," she continued.
The United Kingdom's Secretary of State for Foreign Affairs, Boris Johnson said that the ball is in Russia's court when it comes to peace in Syria.
"The future salvation of Aleppo lies really on the Assad regime and above all with the Russians. It is up to them to pull the plug on this thing, to see sense and I appeal to the greatness of the Russian people to to choose a different path," he told reporters.
Two dead sons. Two devastated parents. More blood flows in Aleppo's streets. pic.twitter.com/ZixaQwJNzj

— AJ+ (@ajplus) October 16, 2016
The siege of Aleppo has begun anew in the weeks following the breakdown of a short lived US and Russia brokered ceasefire.
Much of the rebel-held east of the city has been reduced to rubble and food and medical resources are in short supply.