Battle for Mosul: Iraqi army claims gains against ISIL
Comments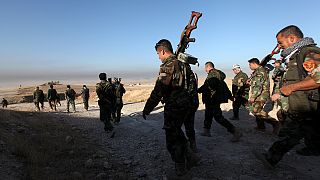 Iraqi government forces claim to have made gains against ISIL, on the first day of a long-anticipated offensive to retake the northern city of Mosul.
Footage showed several giant explosions, thought to be ISIL suicide car bombs, rocking the battlefield.
Kurdish fighters are taking part in the advance, which has been months in the planning.
Massoud Barzani, President of the Kurdish Regional Government of Iraq said:''Military commanders from both the Iraqi army and the Kurdish Peshmerga forces have been working together for a long time to plan for this offensive on Mosul.''
It took ISIL just four days to capture Mosul during its blitzkrieg advance across Iraq in 2014. It is expected take weeks, maybe months, to get it back.
Turkey, which also has troops in northern Iraq, says it is watching events closely.
President Recep Tayyip Erdogan said: "I am sorry but we are not responsible for the possible outcomes of this operation that Turkey is not participating in. We will take part in this operation and we will also be at the negotiation table as well. We have a 350 kilometre border with Iraq that we have to defend from potential threats.''
In addition to Iraqi troops and Kurdish Peshmerga fighters the US led coalition advancing on Mosul also includes Shia militia and Sunni tribal groups.