US 'destroys three Houthi-controlled sites in Yemen' in retaliation for attacks on Navy
Comments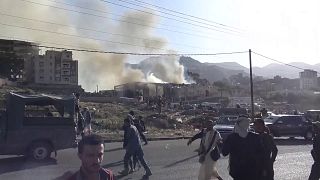 The US says it has destroyed three coastal radar sites in Houthi-controlled territory in Yemen.
Tomahawk cruise missiles were reportedly launched in retaliation for two failed missile attacks on a US naval vessel earlier this week.
But the Saba news agency cites a Yemeni military source as saying the alleged attacks on the USS Mason did not come from areas under Houthi control.
The agency, which is run by the dominant Houthis in Yemen, has denied involvement on behalf of the group.
Meanwhile, Washington says it is reviewing its support to the Saudi-led coalition in the country after 140 mourners were killed in an airstrike on a funeral in the capital at the weekend.