First of new wave of child refugees in Calais travel to UK
Comments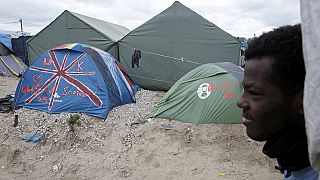 The first group among hundreds of children Britain has agreed to accept from the Calais migrant camp have travelled to London.
Escorted by volunteers, the six minors – five Afghans and one Syrian – boarded a train after the UK, under pressure from France, said they could be reunited with relatives.
The camp known as "the jungle" is due to be dismantled in the coming weeks.
"In London, there is my family. My sister. We have to go. We don't have any solution and we can't live in another country, or in France or in Germany," said Saadi, a young Afghan refugee.
Both the British and French governments have been seeking solutions for hundreds of unaccompanied children.
Britain says small groups have been coming on a weekly basis for the last few months.
But questions remain about what will happen to those without family ties in the UK.
France insists plans to close the Calais camp will go ahead despite a court challenge from a group of charities.
It wants to resettle small groups of migrants in reception centres around the country.
Thousands of migrants fleeing war and hardship in countries such as Syria, Iraq, Afghanistan and Eritrea have reached the Channel port.
France says it tries to persuade them to apply for asylum there but many, desperate to reach Britain, try to jump on board lorries or fall prey to smugglers.