France to ask ICC to investigate claims of war crimes in Syria
Comments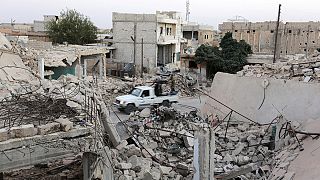 France's Foreign Minister says he will ask the International Criminal Court to investigate possible war crimes in Syria.
"There have been war crimes, the United Nations Secretary General said so. It is a certainty, now we need to establish what the responsibilities are," Jean-Marc Ayrault said on French radio.
"We have international laws, we the International Criminal Court (ICC), France will contact the ICC's general prosecutor to see how she can start investigations. International laws exist."
France wants international war crimes investigation in Syria: PARIS French Foreign Minister Jean-Marc Ayrault… https://t.co/JdSEFOPVW6

— Refugee News (@IntRefugeenews) October 10, 2016
Draft UN resolution
France and Spain have drafted a resolution on resurrecting an agreement on a cessation of hostilities in the Syrian conflict.
It was put to a vote at the UN Security Council on Friday.
The resolution was vetoed by Russia.
Read the UN's report from the meeting here
Putin's Paris visit
Ayrault added that President Francois Hollande will take into account the situation in Syria's Aleppo when decided whether to meet his Russian counterpart Vladimir Putin when the latter visits Paris on October 19.
Ayrault: Hollande to decide on personal meeting with Putin depending on situation in Syria https://t.co/qtx16jhZoh

—

TASS

(@tassagency_en) October 10, 2016
Talbiseh
Air strikes have hit the town of Talibiseh in the Homs province of Syria.
The Syrian Observatory for Human Rights, a monitoring group based in Britain, says warplanes launched raids on the town on Monday morning.
At least one person has been killed. Several have been injured.
The Observatory says the airstrikes were followed by gunfire in the area from forces loyal to the Syrian government.
Where is Talbiseh?
Talibiseh is located around 13 kilometres north of the devastated city of Homs.
Once home to tens of thousands of people, Homs was one of the first cities to become an opposition stronghold during the beginning of the Syrian conflict.
Read more here