Deadly gun attack on a Shiite shrine in Kabul
Comments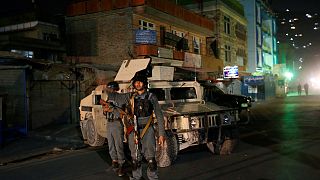 Three gunmen in military uniforms have attacked a Shiite shrine in the Afghan capital Kabul.
Initial reports suggest a number of people have been killed and injured.
Ongoing #Taliban/ terrorist attack on shiite shrine in #Kabul. Not the 1st time #Afghan shiites have been targeted by violent extremists pic.twitter.com/aQVswUYeWP

— shafi شفيع (@ShafiSharifi) October 11, 2016
The attack happened as worshipers gathered to commemorate a major Islamic holy day.
Witnesses say an explosion was followed by gunfire.
Police have evacuated the shrine, but it remains unclear if the attackers are at large or shot dead.
Authorities had warned Shiites against large gatherings as attacks have been expected as the community commemorates Ashoura Day.