Home Judokas continue impressive display on day two of Tashkent Grand Prix
Comments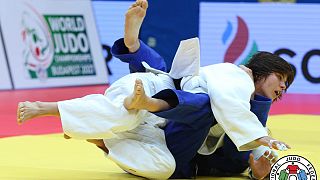 The home Judokas enjoyed yet another impressive day at the Tashkent Grand Prix adding six medals to the seven their won on the opening day.
Uzbekistan's Gulnoza Matniyazova thrilled her home support by defeating Slovenian Anka Pogacnik in the final of the women's -70 kilo division.
The 22-year-old continued her nation's fine showing in Tashkent.
No score was registered in regulation time but Matniyazova delivered the winning blow – a waza-ari – in added time known as golden score to celebrate her maiden victory on the pro circuit.
Daria Davydova enjoyed success on the IJF World Judo Tour for the first time in her career as she defeated Croat Marijana Miskovic Hasanbegovic to win the -63kg title.
The Russian Judoka, whose previous career-best was seventh at the World Championships last year, went ahead courtesy of a waza-ari from an uchi-mata or an inner thigh throw.
Davydova managed to defend that score until the end which left her with the gold.
The Uzbek crowd were on their feet celebrating a second gold of day two following Matniyazova's earlier triumph.
It was a guaranteed gold and silver for the home nation when teammates Mirzahid Farmonov and Giyosjon Boboev squared off in the final of the men's -73kg division.
The pair matched each other throughout the tight contest and were only separated by 28-year-old Farmonov's winning waza-ari move 44 seconds into golden score.
It turned out to be a bit of a gold rush for the Uzbek team on day two.
Davlat Bobonov added to his nation's medal haul when he upset the odds to beat favourite Hayako Watanabe of Japan in the men's -81 kilo title fight.
The Junior Asian champion underlined his status as one of his country's top prospects when the 19-year old produced the only score of the contest – a yuko from an uchi-mata after two minutes.
Despite going on to accumulate three shido penalties he held on for the win.
The surprise of the day came in the preliminary round of the women's -63 kilo class when unheralded Uzbek Mukhayyo Ibragimova stunned 2013 Tashkent silver medallist Hannah Martin of the US by ippon after two minutes and 50 seconds.