Syrian army tightens grip on the besieged city of Aleppo
Comments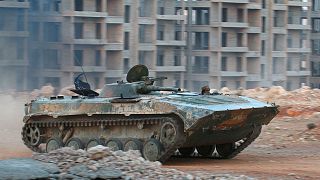 The Syrian army is tightening its grip on the besieged city of Aleppo.
The London based Syrian Observatory for Human Rights say fierce fighting is taking place in Bustan al-Basha close to the ravaged city centre.
At the Atmeh border crossing between Turkey and Syria, close to Aleppo, a suicide bomber has killed at least 25 Turkish-backed Syrian rebels and injured many others.
#Aleppo | Pictures from #SyrianArmy controlled areas in Bustan al Basha district pic.twitter.com/k10MhWQX8q

— Syria Today (@todayinsyria) 6 October 2016
ISIL has claimed responsibility for the carnage.
Turkey is supporting the rebels in an offensive further to the northeast at a separate stretch of frontier.
Footage of #SAA operations in Bustan al Basha #Aleppopic.twitter.com/7hhWnbGvPA

— Syria Today (@todayinsyria) 6 October 2016
The Atmeh crossing is vital to groups fighting both Assad loyalists and ISIL as it allows supplies from Idlib to reach Aleppo via Turkey.
In a chilling statement Syrian forces have warned anyone who remains in the city, after being given an opportunity to leave, faces an "inevitable fate."