Polish parliament rejects proposal for near-total ban on abortion
Comments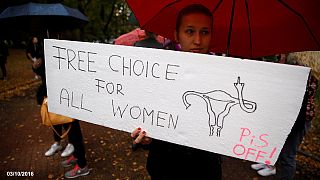 I think a woman should have the right to decide about her fate, about her life and the future of her child, whether it is born or not

Protester
Polish lawmakers have withdrawn draft legislation that would have introduced a near-total ban on abortion.
352 members of the parliament rejected the proposed legislation, which would further restrict Poland's already tight legislation on the termination of pregnancy.
58 lawmakers backed the proposed law.
The about-turn in the vote marks the first major domestic setback for the governing conservatives.
It's official! Abortion ban Poland defeated. This victory belongs to the inspiring, kick-ass #CzarnyProtest women and their allies. pic.twitter.com/xYaezLKKrp

— Gauri van Gulik (@GaurivanGulik) October 6, 2016
The draft bill
The legislation, proposed by an independent group, would forbid any termination, tightening Poland's already restrictive laws.
Currently, pregnancies can only be terminated in the case of rape, incest, when there is a threat to the mother's health, or when the baby is likely to be permanently disabled.
Intense debate
The draft legislation was introduced to parliament by the group Ordo Iuris.
The possibility of tighter restrictions stirred an intense debate in the staunchly Catholic country.
Critics said the proposed rules would discourage doctors from carrying out prenatal tests, particularly if the procedures carry the risk of miscarriage.
They also said it could put the life of women with an ectopic pregnancy at risk.
Women and doctors could have faced prison if convicted of causing what the proposed rules called "the death of a conceived child"
.
Poland's Lawmakers Open Debate on Divisive Anti-Abortion Law – https://t.co/d5mjd9jR5Qpic.twitter.com/c0Jt3gYYdR

— searchmap.eu (@searchmap_eu) September 22, 2016
Abortion in Poland
Official statistics show several hundred legal abortions are conducted in Poland each year.
However, activists say many women are denied access to the procedure when doctors invoke a legal right to decline to perform it on moral or religious grounds.
They say tens of thousands of terminations are performed illegally. Many women are said to cross the border to Germany or Slovakia to have them carried out.
Mass protests
The bill has been voted down after mass protests on the streets.
On Monday, thousands of women dressed in black and went on strike across the country.
Restaurants, government offices and university lectures were closed down.
Access was blocked to the governing party's headquarters in Warsaw.
#Poland's umbrella revolution. Big turnout at #BlackMonday#CzarnyProtest against abortion ban https://t.co/UO3sayvgA7 (via P Strzałkowski)

— Stefan Simanowitz (@StefSimanowitz) October 3, 2016
What they are saying
"We met here with a big group, a huge group of women who have hope that their fate will be in their hands and will not depend on older gentlemen who probably have no authority on these issues," – Paulina, a protester.
"I think a woman should have the right to decide about her fate, about her life and the future of her child, whether it is born or not," – Agnieszka, protester.
"Today, only men are working at our place becuase all the women went to the demonstration against the abortion ban," – Filip a barman in central Warsaw.