Polish women protest over planned abortion law
Comments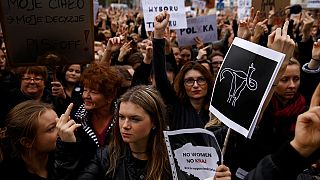 Polish women took to the streets on Monday in protest at a government bill that would lead to a total ban on abortion, even for rape victims.
Women from across the country wore black as they walked out of their offices and schools to attend demonstrations in a number of major cities.
Dubbed 'Black Monday', they are angry about a proposal from the country's conservative government to tighten abortion laws.
Several rallies in support of the pro-choice camp were held in European cities, such as Brussels, Berlin and Dublin.
A number of anti-abortion protests also took place across Poland, Reuters reported.
Current legislation bans abortion except if the woman's life is in danger, the foetus is irreparably damaged or in cases of rape or incest.
Those exceptions would be scrapped if the governing Law and Justice Party has its way.
The proposal for a stricter law came from a petition signed by 450,000 Polish citizens. The Catholic Church also backs the changes.