UKIP leader resigns after only 18 days
Comments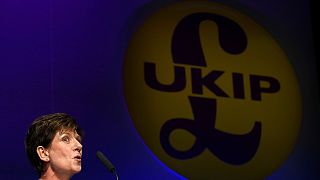 Diane James has resigned as the leader of the pro-Brexit UK political party, UKIP.
James has left after only 18 days in the role, citing professional and personal reasons.
There has been no comment from UKIP so far.
Nigel Farage is still technically Ukip leader, since Diane James did not formalise her nomination to become leader https://t.co/ofNWWtwyE8pic.twitter.com/p9e6Djaz0D

—

ITV

News (@itvnews) October 4, 2016
What she says
"I will not be formalising my recent nomination to become the new leader of the party," James, an MEP, said on her Twitter account.
"It has become clear I do not have sufficient authority, nor the full support of all my MEP colleagues and party officers to implement changes I believe necessary and upon which I based my campaign."
Thank you to all UKIP</a> supporters who attended my <a href="https://twitter.com/hashtag/MeetDiane?src=hash">#MeetDiane</a> meetings across the country over the summer. <a href="https://t.co/EQf9rUXgKA">pic.twitter.com/EQf9rUXgKA</a></p>&mdash; Diane James (DianeJamesMEP) October 4, 2016
No "soft" Brexit
James succeeded Nigel Farage as the UKIP leader in September.
At the time, she pledged to ensure that the Conservative government did not negotiate a "soft" Brexit.
The informal term is generally considered as involving compromises in the negotiations for the UK to leave the EU.