Pope makes surprise visit to quake hit Amatrice
Comments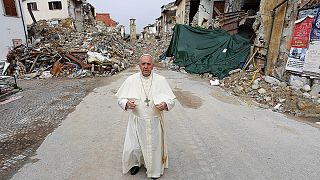 Pope Francis has made a surprise visit to Amatrice and other towns in central Italy devastated by an earthquake six weeks ago.
The Vatican had kept the trip secret until Francis' arrival.
The head of the Catholic Church had expressed his wish that it be made in private in order to be closer to those affected.
Addressing residents on a car megaphone the 79-year old Pontiff said: ''I wanted to come earlier but I didn't because I thought that, in the first days of so much pain, my visit could have perhaps been more a hindrance than a help.''
Nearly 300 people were killed and 4,000 left homeless by August's 6.2 magnitude quake.
Most of the buildings in Amatrice, which was virtually destroyed, were either flattened or considered too badly damaged to live in.