Italy earthquake: before and after
Comments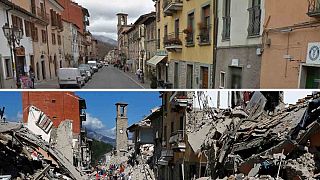 The pictures speak for themselves. One minute all is normal while residents sleep in Amatrice, central Italy. The next, devastation.
We used photos from Google Street View and Reuters Photos to see how it impacted the main street running through the town. (Click on the picture to view the entire street.)
35 Corso Umberto I, Amatrice, Italy The town has buildings that date from the 13th century. It's main street now resembles something from a war zone.
5 Corso Umberto I From the foreground to the clocktower in the distance, everything is destroyed.
121 Corso Umberto I The pizzeria has been reduced to a pile of rubble on which rescuers desperately hunt for survivors.
157 Corso Umberto I
The imposing red building was unable to withstand the shock and is in ruins. The building on the right has severe cracks running down the side.
City Hall
The town hall is surrounded by bricks and rubble.
Amatrice was last year voted one of Italy's most beautiful historic towns. It is known across Italy and beyond for a local pasta dish, and had been filling up for the 50th edition of a popular food festival this weekend.
Erik Nelson/ Rafa Cereceda