Hungary's PM says Brussels cannot ignore "migrant quotas" vote
Comments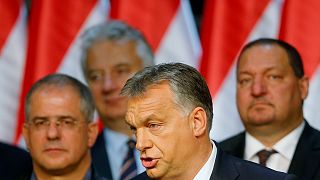 Almost all those who voted in a referendum in Hungary on Sunday rejected EU migrant quotas, but the turnout was too low to make the poll valid.
Only around 40% of eligible people cast a ballot falling short of the 50% threshold.
Nevertheless the country's hardline right-wing Prime Minister Viktor Orban said the result can not be ignored by Brussels:
"Brussels or Budapest? That was the question and we have decided that the right to make this decision is solely that of Budapest's. The question is simple: can the democratic community of the European Union force their will on a member-state where 92% of the participants have reject this. I promise you, I promise to all citizens of Hungary that I am going to do everything to prevent this from happening," he said.
Later Orban vowed to change Hungary's constitution to make the referendum result legal.
Those who voted have in effect rejected the EU's plan to relocate 160,000 migrants across the bloc, meaning Hungary would have to take in 1,294 asylum seekers.
Specifically voters were asked: "Do you want the European Union to be able to mandate the obligatory resettlement of non-Hungarian citizens into Hungary even without the approval of the National Assembly?"
Prior to the vote Orban had urged Hungarians to reject the EU scheme, describing it as a threat to Europe's security and way of life.
However political analysts such as Attila Juhász said the low turnout will mean Orban is unlikely to change EU policy.
"From an international point of view this result is definitely a failure for Viktor Orbán, an invalid referendum is unlikely to put pressure on the European Union, nobody will take this seriously," said Attila Juhász.
Reporting for euronews in Budapest Andrea Hajagos asked "what now for Hungary's leader?"
"Many say that after this Viktor Orbán will definitely have to change his politics which in the last period was basically just about migration. But this dosent seem to have worked, especially here in the capital."
Social media was reflecting widely differing views:
#HungaryReferendum#QuotaReferendum low turnout disappoints me, but at least Hungary's government consulted its people, unlike Merkel.

— Deplorable Hungarian (@1M4gy4r) October 2, 2016
Hungary rejects it's nutty PM Orban in a great yawn of indifference. Right wing fools everywhere proclaim it a victory #HungaryReferendum

— Otto English (@Otto_English) October 2, 2016
Solution to #refugeecrisis is not hatred or fear; we need a humane, common European response. #HungaryReferendum

— Guy Verhofstadt (@GuyVerhofstadt) October 2, 2016