Hungarians vote in referendum on migrant quotas
Comments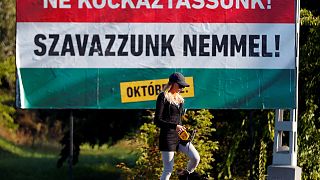 Hungarians voted on Sunday in a controversial referendum on whether they want to accept EU migrant quotas.
The latest polls suggest that the majority of those who do vote will reject the quotas but it appears likely that voter turnout will be less than 50 percent, meaning the vote won't be valid.
Opposition parties have been urging their supporters to stay away in protest.
Prime Minister Viktor Orban has urged voters to reject the EU's demand which aims to relieve some of the migration burden from Greece and Italy's shoulders.
Orban, who has been in power since 2010, has been linking migration to terrorism and says migrants threaten Hungary's Christian culture.
He is among the toughest opponents of immigration in the EU, and over the past year he has sealed Hungary's southern borders with a razor-wire fence and thousands of army and police border patrols.
Hundreds of thousands of migrants have passed through Hungary in their determination to reach richer EU states such as Germany but very few have actually remained there.
This year Hungary recorded around 18,000 illegal border crossings.
Orban's hardline approach on migration has won allies in Central Europe. Eastern Europe's ex-communist states, now in the EU, are opposing a policy that would require all EU countries to take in some of the hundreds of thousands of people seeking asylum in the bloc.
While Budapest says immigration policy should be a matter of national sovereignty, human rights groups have criticized the government for stoking fears and xenophobia, and for mistreating refugees on the border.