Hungary referendum on EU migrant quotas invalid, less than 50% turnout
Comments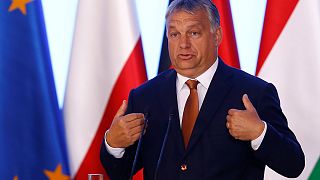 The majority have rejected EU migrant quotas, but the turnout wasn't high enough to pass the 50% threshold to make it valid.
Gergely Gulyas an MP from the ruling party said that voter turnout will be around 45 percent based on exit poll data, and that around 95 percent of HUngarians will have rejected the quotas.
Prime minister Viktor Orban is strongly opposed to Brussels' plan to relocate 160,000 migrants across the bloc. Over the last year, Hungary has sealed its border with Serbia and Croatia in response to the migrant crisis.
Speaking after the vote he said the referendum result must be taken into account by EU decision makers.
#BREAKING EU 'cannot force' Hungary to accept migrants: PM Orban

—

AFP

news agency (@AFP) October 2, 2016
The failure to pass the threshold will be a disappointment for the premier, despite the majority supporting his opposition to Brussels' policy.
How the internet reacted to the news
Some speculated on how Orban might try to spin the result.
Expect Orban to focus on the number of No, not the turnout. #Hungary

— Eric Maurice (@er1cmau) October 2, 2016
While others drew comparisons with the British referendum on leaving the EU.
Ah, Hungary. A country sensible enough to have rules about referendums to prevent populist disinformation leading to terrible decisions…

— J Clive Matthews (@nosemonkey) October 2, 2016
Some argued that the overwhelming support to reject quotas could not be ignored, despite the result being void
#Hungary referendum is a blow for #Orban. But 95% of voters said 'no' to #EU policy on #refugee reallocation. That's the bigger story.

— Hylke Dijkstra (@DijkstraHylke) October 2, 2016