Hungarian PM Orban vows to amend constitution following refugee referendum result
Comments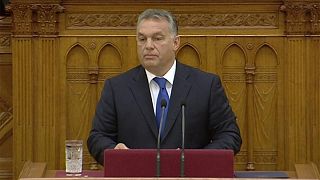 Hungarian Prime Minister Viktor Orban has vowed to amend the constitution to make sure the EU cannot settle migrants in his country. The move follows Sunday's referendum result.
98 percent of those who voted rejected a plan by Brussels for mandatory migrant quotas, but the low turnout means the ballot is invalid.
Despite falling well short of the 50 percent threshold, Orban told Hungary's parliament: "The government considers it only a proper, honest and necessary step to put into law the will of the people, so I will initiate the modification of the Constitution according to the result of the referendum," the Hungarian PM said.
Hungary's radical nationalist Jobbik party has called on Orban to quit, while other observers have criticised his attempt to make the result binding.
"The government's arguments about legal consequences are strange because if the referendum's validity was not required in the first place, then why was it held? This just proves that the outcome of the vote was not important and only took place for the government's own political ends,'' said Attila Juhász, a political analyst from the Budapest based think-tank Political Capital.
Critics also slammed the government's massive media and billboard campaign ahead of Sunday's vote, saying it played on voters' fears.
Despite that, Orban has said the decision to accept migrants is a matter of national sovereignty.