Five suspected ISIL members arrested in pan-European police operation
Comments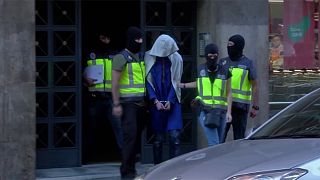 Five suspected members of an ISIL terror cell have been arrested after coordinated police raids in Spain, Belgium and Germany.
In Barcelona, two individuals were detained and evidence seized on Wednesday.
Accused of spreading propaganda and inciting attacks, the group's dedicated Facebook page apparently had 32 and half thousand followers and was attracting 500 new users per week.
Spain's Interior minister Jorge Fernandez Diaz said: ''We've simultaneously dismantled a network which was spreading. It was perfectly integrated into the ISIL structure – producing terrorist propaganda – for example video material, which due to its cruelty, aims to create a state of permanent insecurity.''
Arrests also took place in Brussels, Wuppertal in Germany and Spain's African enclave of Melilla.
The EU's anti-terror chief Gilles de Kerchove praised the operation.
"The security services and law enforcement agencies are sharing much more information than anywhere before and it is impressive to see the number of plots which have been foiled in recent weeks, the number of people who have been arrested.''
Spanish police say they have taken part in the arrests of 143 suspected terrorists since last year, 30 of which took place in other countries. The latest detentions reportedly included four Spaniards and one Moroccan national.