Colombia prepares for poll over historic peace deal
Comments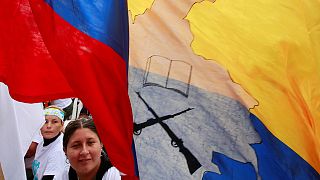 After four years of talks, FARC members unanimously agreed to a peace deal with the Columbian government to end a bitter conflict that's lasted more than half a century.
The deal is supposed to change people's behaviour and attitudes and that's not going to happen in one day.

Negotiator, Sant'Egidio Community
But the deal signed this week will only be implemented if it's approved in a referendum on October 2.
Announcing the accord, FARC's chief negotiator Rodrigo Londono, aka "Timochenko" said: "We have agreed unanimously to end the conflict and to build a stable and lasting peace with the firm conviction that within it lies the seeds of transformation that the vast majority of people and the whole country are striving for."
FARC leaders and the Colombian government started peace talks in Cuba in November 2012. Key issues included what concessions to make to the rebels and what kind of justice they should face. The United Nations will also play a key role in facilitating the peace process.
"It's the first time that the victims have been placed at the center of the solution to the conflict. Their rights, their rights to truth, to justice, to reparations and to non-repetition," Colombian President Juan Carlos Santos told the UN general assembly.
According to the peace agreement, the government and rebels must provide land, loans and services to impoverished areas to help local populations.
Political Participation
FARC will make the transformation from guerilla army to political party with 5 seats in the senate and 5 in the lower house (268 members).
Final ceasefire
The estimated 7000 FARC fighters must hand over their weapons within 180 days and move into 28 disarmament zones set up by the UN. FARC members will receive a 2-year pension and a one-off payment of 610 euros.
New drug politics
In order for the government to combat drug crime, FARC has agreed to stop cocaine production in its strongholds. In return, the government will help farmers earn a new living.
Justice
Amnesty will be granted for political crimes but not for massacres, torture or rape. There has been criticism of the fact that guerrilla leaders are unlikely to serve time in prison.
Of the almost 260,000 Colombians who have died as a result of the conflict, around 80% were civilians and over seven million people have registered as victims.
Right-wing paramilitaries, set up to combat FARC are said to be responsible for over half of the massacres.
Behind the scenes
Euronews producer Cecilia Cacciotto spoke to Gianni La Bella from the Sant'Egidio Community, the Italian movement that acted as facilitator in the negotiations between the Colombian government and Farc.
Cecilia Cacciotto: You have just returned from Colombia. Do people think the agreement, this time, is going to work?
Gianni La Bella: The signature of the agreement in Cartagena has been welcomed with great enthusiasm and joy. Colombians have been waiting for peace for more than 52 years and the signature ceremony was watched all over the country. However, the feeling of joy is mixed with concern as many people have doubts. They want peace but at the same time time they're afraid it (peace) is not going to last.
CC: Colombia's right-wing politicians have strongly criticized the agreement, is it the best that could be achieved?
GB: It's a quite complex agreement, of more than 290 pages, which is going to lead the peace process. As all agreements, there's compromise and it's going to take a long time before there's a reconciliation. But now what's important is to transform the deal into concrete facts.
CC: The negotiations lasted four years, undoubtedly there were critical moments. Did you ever think you would fail?
GB: I think the most critical point was the transitional justice talks – what would happen to FARC guerrillas. Would they be imprisoned or not? It was the big question, the most critical discussions which lasted several months. A lot of people worked on finding a juridical and innovative solution to ensure justice which is not only punitive but also ensures reintegration into civil society.
CC: What's going to happen on October 3?
GB: Once the government announces the referendum results, the agreement will be implemented progressively according to its timeline. FARC guerrillas are going to move into some transitory areas, sort of new villages. Little by little they will handover their weapons and be protected from reprisals by a government-recognised militia; and they will start to face justice issues.
CC: Sant'Egidio will closely follow the agreement's implementation, how long will it take for Colombia to achieve real stability?
GB: A long, long time. Of course, we have speed up the implementation of all the measures in the deal but this process has to get into the hearts and minds of Colombian people. The deal is supposed to change people's behaviour and attitudes and that's not going to happen in one day. It's really important that the international community, civil society, the church make big efforts to help this reconciliation process.