American-Russian Syrian diplomacy gets bogged down as bombs fall on Aleppo
Comments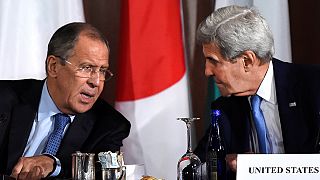 Russia and the United States continue their stumbling diplomacy over Syria on the margins of the UN General Assembly, with little sign of progress.
The pair are concentrating on rebuilding the recent ceasefire that collapsed around Aleppo and saw the siege of the city resume. Both sides accuse the other of failing to restrain, respectively, Syrian government forces and rebel groups.
"Any truce, seven days, three days, would be senseless, because…I gave you examples of what was going on after 12th of September when the document was enforced – 350 attacks by the opposition, close to Nusra, against government troops and against living quarters. So we want to see any sign which would prove that the coalition has influence on those who are on the ground facing the government," said Russian Foreign Minister Sergei Lavrov.
While Russia insists it has yet to see evidence that the West is able to get its allies to stop fighting, Germany's Foreign Minister said the same was true for Russia's powers of persuasion over Syrian President Bashar al-Assad.
"The hope raised last week by the ceasefire vanished after the deadly, cynical and despicable attack on humanitarian aid workers a few days ago. Today the situation could not be more serious. Assad's air force must cease attacks. I believe that Moscow also has a responsibility to help bring this about, and if we do not succeed ladies and gentlemen then all efforts to find a political solution to Syria will be lost in a hail of bombs," said Frank-Walter Steinmeier at the UN.
On the ground it seems that the Syrians are convinced military victory is in their grasp, and in such a situation there is little imperative to seek a diplomatic solution. The agony of Syria looks set to continue without respite.