National Guard deployed to Charlotte amid further unrest over police shooting
Comments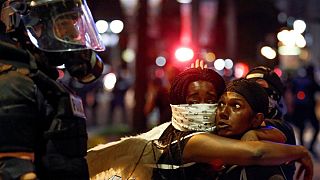 The national guard has been deployed in the US city of Charlotte, after a second night of violent protests over the police shooting of a black man.
A state of emergency is also in place amid growing anger over Keith Lamont Scott's death.
While strongly disputed by the 43-year-old's family, earlier Charlotte's police chief said evidence, though not definitive, supported the officer's claims Scott was armed.
Kerr Putney, Charlotte-Mechlenburg's Police Chief said:
"The video does not give me absolute, definitive visual evidence that..that would confirm that a person is pointing the gun. I did not see that in the videos that I've reviewed"
One person was shot and seriously wounded and at least 44 people arrested after protests turned ugly in the North Carolina city late on Wednesday.
Nine other demonstrators and two officers were also hurt in the clashes downtown.
The disturbances grew more violent as officers carrying riot shields moved in. Looting also took place.
But Scott's death and last week's killing of Terence Crutcher in Oklahoma, who was unarmed, has once again raised questions of racial bias in US policing.