US protests turn violent as anger at police killings boils over
Comments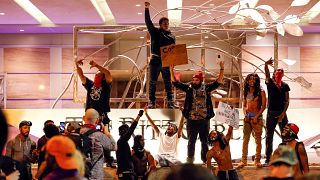 Protests turned violent for a second night in Charlotte, North Carolina following a fatal shooting of black man by police. A state of emergency has now been declared.
One man was shot and injured during last night's protest. Police said that another civilian was responsible.
A video shows the man, who has not yet been named, as people try to help him and call for assistance.
He is in a serious condition, but contrary to some early reports was not killed.
Mayor of Charlotte, Jennifer Roberts, is said to be considering introducing a curfew to the city.
.POTUS</a> expresses his concern to <a href="https://twitter.com/MayorBartlett">MayorBartlett and CLTMayor</a> during this challenging time <a href="https://t.co/HpIExHiLy6">pic.twitter.com/HpIExHiLy6</a></p>&mdash; Valerie Jarrett (vj44) September 21, 2016
Bank of America, who are based in Charlotte and employ 15,000 people in the city reportedly told staff not to come in to work.
#BREAKING: From friend at BankofAmerica</a>. Employees can stay home tomorrow. "Emergency notification alert." <a href="https://t.co/I7qI8L6C1p">pic.twitter.com/I7qI8L6C1p</a></p>&mdash; Molly Grantham WBTV (MollyGrantham) September 22, 2016
Accounts differ over the shooting of Scott. According to police he was armed with a handgun and threatened officers.
His family claim he was holding a book, not a gun.
The calmest man in Charlotte is protester Henry Lee, 51, who silently refuses to leave his chair. pic.twitter.com/8abgzPwoDZ

— Matthew Teague (@MatthewTeague) September 22, 2016
His death is the latest incident to raise questions of racial bias in US policing