World religious leaders vow to oppose terror in God's name
Comments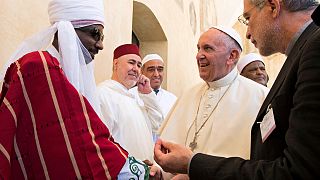 Pope Francis and leaders of other world religions have said " No to War" and vowed to oppose terrorism in God's name.
The declaration came at the end of a three-day meeting held in Assisi, the home of St Francis, the patron Saint of peace and defender of the poor.
Pope and world religious leaders vow to oppose terror in God's name https://t.co/yEOhHX4iTh via Reuters</a> <a href="https://t.co/TUqCr6rg58">pic.twitter.com/TUqCr6rg58</a></p>&mdash; Brendan McDonald (7piliers) September 21, 2016
Around 500 representatives of numerous faiths including Christianity, Islam, Judaism, Buddhism, HInduism and Sikhism attended discussions on how their members could better promote peace and reconciliation.
"Today the world has a profound thirst for peace." https://t.co/c0C35gOXVG

— Catholic News Agency (@cnalive) September 21, 2016
Francis, leader of the world's 1.2 billion Roman Catholics, prayed in the basilica with Archbishop of Canterbury Justin Welby, spiritual leader of the world's 80 million Anglicans, and Patriarch Bartholomew, spiritual leader of up to 300 million Orthodox Christians around the globe.
In a final appeal that key representatives signed and gave to children from around the world, they vowed "to oppose every form of violence and abuse of religion which seeks to justify war and terrorism."
"No to war! May the anguished cry of the many innocents not go unheeded. Let us urge leaders of nations to defuse the causes of war: the lust for power and money, the greed of arms' dealers, personal interests and vendettas for past wrongs," the appeal said.
The gathering was held to mark the 30th anniversary of the first such encounter hosted by the late Pope John Paul in 1986.