Protests in North Carolina after African American man shot by police
Comments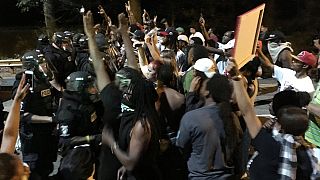 Several hundred protesters clashed with police in Charlotte, North Carolina, after police officers shot 43-year old Keith Lamont Scott, a black man who was said to be armed.
RAWVIDEO: Street protests in Charlotte after police shooting. https://t.co/197OYpXjfB

— The Associated Press (@AP) September 21, 2016
However, Scott's family disagreed with this account, saying that he was simply holding a book at the time of the shooting.
Protesters were met by police in riot gear, who used tear gas to disperse the angry crowds.
Some protesters were heard shouting Black Lives Matter, the slogan that has become well known around the world in the wake of US police shootings of African Americans.
VIDEO: Demonstrators in Charlotte, North Carolina attack police car during protests. https://t.co/bSFCHMvOlp

— The Associated Press (@AP) September 21, 2016
Police say they were searching an apartment complex for a suspect with an outstanding warrant when Scott came out of his vehicle with a weapon.
Kerr Putney, chief of police for charlotte-mecklenburg police department said "As they engage him, he is armed with a handgun that we found on scene as well. He makes some imminent threat to them and because of that at least one of the officers fired rounds at the subject, shooting him and now he is deceased".
The deadly shooting comes just a day after video emerged of police in Oklahoma shooting dead an unarmed black man, Terence Crutcher, after his car broke down in the road.
Mayor of Charlotte Jennifer Roberts tweeted saying "The community deserves answers and (a) full investigation will ensue".
The community deserves answers and full investigation will ensue. Will be reaching out to community leaders to work together CMPD</a> <a href="https://twitter.com/ncnaacp">ncnaacp

— Mayor of Charlotte (@CLTMayor) September 21, 2016