America and guns: some facts and stats
Comments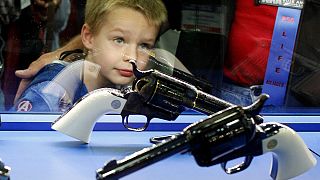 The

USA

had 2.9 gun murders per 100,000 of population

That's according to 2012 data published by the United Nations Office on Drugs and Crime (UNODC).

It shows, however, the USA is not the world's worst. Honduras takes that prize, with a rate of 68.43.

The USA's figure, however, can be put in perspective by looking at its neighbour, Canada, which had 0.51 murders per 100,000 population. It also compares unfavourably with many European countries, such 0.06 in France, 0.07 in England and Wales and 0.19 in Germany.

Gun law reforms are being resisted

US president Barack Obama, who has failed in attempts to get tighter gun laws through the US Congress, says he is able to put American citizens who have visited ISIL websites on a no-fly list, but cannot stop such people going and buying a gun.

"This is somebody who is a known ISIL-sympathiser and if he wants to walk into a gun store or a gun show right now and buy as many weapons and ammo as he can, nothing prohibits him from doing that."

He went onto to say that any proposals to bring in 'common-sense gun laws' are viewed as a 'tyrannical destruction of the second amendment'.

The National Rifle Association (

NRA

) spends around 2.67m euros-a-year to influence gun policy.

But, according to Obama, the powerful lobbying group will not discuss reforms with him.

He has accused the NRA of misrepresenting proposed legislation on gun control.

The NRA declined to take part in a debate with Obama, saying it didn't want to be involved with a 'public relations spectacle'.

Democratic deficit? Public opinion at odds with politicial reality

The Pew Research Center released a survey two years after legislation to expand background checks on gun purchases was knocked back.

It revealed public opinion seemingly differs from that of its politicians.

It said 88 percent of Americans favoured extending background checks for gun sales.

Gun ownership in the

USA

is the highest in the world

There are at least 90 civilian-owned guns per 100 people in the US, the highest ratio in the world, according to the Small Arms Survey.

That is far higher than the second on the list, Yemen, with 55 firearms per 100 people. Switzerland, with 46, had the highest figures in Europe.

Paris attackers 'could have bought guns legally in the

USA

'

A report in 2015 said current laws allowed even those on terror watch lists, including the Kouachi brothers, to buy weapons.

It said more than 2,000 weapons transactions had taken place involving people with suspected terrorism links between 2004 and 2014.

School shootings continuing despite Sandy Hook tragedy

In December 2012, Adam Lanza burst into Sandy Hook Elementary School and killed 20 young children and six staff members.

From 2013 onwards, Everytown, a campaign group for better gun safety, has been tracking firearms incidents in schools, universities and colleges.

It says, up to the end of 2015, there were 160 incidents, including 59 deaths and 124 non-fatal gunshot injuries.