North Korea successfully tests high-powered rocket engine
Comments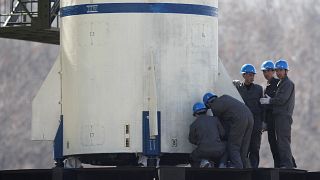 North Korea has announced the testing of a new high-powered rocket engine for a geo-stationary satellite.
Leader Kim Jong Un was quoted as ordering officials to get ready for a satellite launch as soon as possible.
A South Korean spokesman said the new engine has improved thrust.
"Based on what North Korea announced, we perceive that the engine thrust has improved," said Jeon Ha-kyu, South Korean Joint Chiefs of Staff Spokesperson. "We will closely track and monitor for any possible additional movements of the North Korean military next month [around North Korea's Worker's Party Foundation Day]."
The United Nations and others view Pyongyang's space development project as a cover for tests of ballistic missile technology.
Earlier this month, North Korea's carried out its fifth and most powerful nuclear test to date.
The US secretary of state and the foreign ministers of Japan and South Korea said the test would not go unanswered.
Pics of North Korea's rocket engine test from Rodong Sinmun website https://t.co/QZpBhVXbv7pic.twitter.com/cVCJp2CceE

— NorthKoreaRealTime (@BuckTurgidson79) September 20, 2016
United States show of force
A few days later, a pair of US B-1B bombers flew over South Korea. The close proximity of the nuclear-capable aircraft sent a clear signal to North Korea after its nuclear test.
China, an ally of North Korea, called for calm, saying all sides should avoid escalating tensions.
#worldnews#US. #B1 bombers conduct sequence flights with #ASDF#Japan in r.. #NuclearTest#KimJongUn#NorthKoreahttps://t.co/ywuXbF1OYO

— 雲水 (@cloud_stream) September 13, 2016
U.S. and China Vow Greater Cooperation After North Korean Nuclear Test https://t.co/s97f3ABMwDpic.twitter.com/KAxr1cDKpL

— Mayuresh Shilotri (@mshilotri) September 20, 2016