United Russia set to win 343 of 450 seats in lower house of parliament
Comments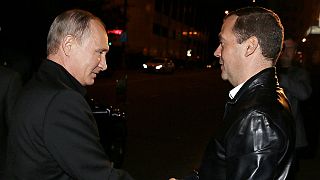 With 93 percent of the votes counted in Russia's parliamentary elections, the country's Central Election Commission announced the governing United Russia party is on track to win 343 seats in the 450-member lower house of parliament, reported Reuters news agency.
United Russia will receive a total of 343 mandates (76.22% of seats), the Communist Party gained 42 mandates (9.34%), the Liberal Democratic Party of Russia 39 mandates (8.67%) and A Just Russia 23 mandates (5.11%), according to TASS news agency.
Speaking an hour after polls closed, the country's president Vladimir Putin said that the party has produced a good outcome, after early results showed it was winning.
"People see the desire and urge of the country's leading force, which works and is widely represented in the parliament, to achieve good results," Putin said. "And so they believe in this desire to work and be useful to the country."
Speaking at the party's headquarters alongside prime minister and party leader Dmitry Medvedev, Putin said the result was proof that United Russia is the leading and best political force because it's doing its best for people but he also warned the party could not rest on its laurels as people are struggling in their daily lives.