Russia's political also-rans lament United Russia's power
Comments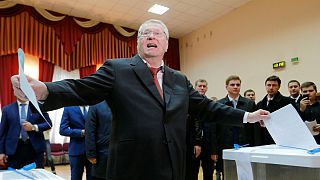 Against all odds could be how the leader of Russia's Liberal Democrats might describe his party's performance.
Vladimir Zhirinovsky is well-known for his outspoken comments, even recently comparing himself to US Republican presidential candidate Donald Trump which may be why he said his party's initial showing is big news.
"We don't have the same support as United Russia, he said, it's not the party itself but the entire might of the state," he said.
Sentiments seemingly shared by the Communist Party leader Gennady Zyuganov who described United Russia's result as "deceitful".
"There were no real debates, fake parties were created to withdraw votes and they (United Russia) are trying to unite with Zhirinovsky's party only in order to have majority (in parliament)," said Zhuganov.
Voter apathy was also to blame according to the opposition Parnas leader,
Mikhail Kasyanov, who said he party was punished by a disappointing low turnout.
"Unfortunately, Russians stopped believing that such an important democratic institution such as an election can change anything. It's a pity."
Initial results appeared to bear out his view with none of the liberal opposition succeeding to get over the five percent threshold needed for party representation in the Duma.