Crimea votes in Russian parliamentary elections amid protests from Ukraine
Comments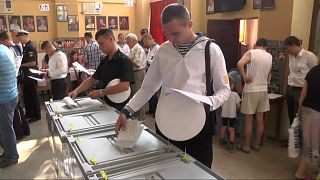 Residents of Crimea are voting in Russian parliamentary elections for the first time since the peninsula was annexed from Ukraine in 2014.
Moscow's move followed an internationally unrecognised vote on self-determination for the land mass.
Russian state media reported turnout of over 80 percent for that vote, with more than 90 percent allegedly opting to break away from Ukraine.
In the run-up to Sunday's ballot (September 18), Kyiv urged countries not to send election observers to Crimea and not to recognise results coming from there. It says any such missions will be considered criminal violations of Ukraine's borders.
In Kyiv, activists could be seen demonstrating in front of the Russian embassy, reportedly trying to stop voters from entering to cast their ballot. Some carried a banner reading "death to Russia."
According to figures from Russia, some 80,000 Russian voters live in neighbouring Ukraine.