New York bomb attacks suspect captured after gun battle
Comments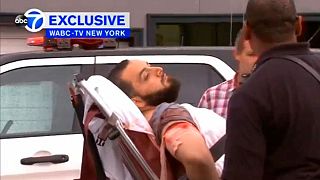 Police in the US have arrested a man in connection with the weekend bomb attacks in New York and New Jersey after he was injured in a gun battle.
Footage shortly after the incident showed Ahmad Khan Rahami being stretchered into an ambulance. He is now said to be undergoing surgery. Two officers were also injured in the shootout.
The 28-year-old Afghan-born American, who had been described a few hours earlier by the FBI as ''armed and dangerous'' was apparently found sleeping in a bar doorway in Linden, New Jersey.
As his family home in the nearby city of Elizabeth was searched by agents, New York Mayor Bill de Blasio said the authorities were not looking for anyone else in connection with the attacks, which the authorities are treating as terrorism.
"Based on the information we have now, we have every reason to believe this was an act of terror. We will be going into some detail and there is still a long investigation ahead, but now as I said we have every reason to believe this was an act of terror," de Blasio said.
29 people were injured by the blast in Manhattan on Saturday, while an unexploded bomb was found close by.
In addition, several other devices were discovered or exploded in New Jersey over the last few days.