New Yorkers say it's "business as usual" following Manhattan blast
Comments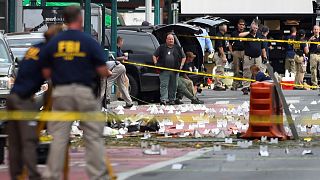 All New York blast victims released from hospital *
Reports of arrests denied by

FBI

*
As the investigation and media attention goes on around them, New Yorkers who have endured the Sept. 11 attacks and the devastating super-storm of 2012, appeared to be generally unperturbed by the blast in Manhattan. Twenty-nine people were injured in the blast on Saturday night but all victims have now been released from hospital.
"Well we've been living in the same area since 9/11 and I think we've all been through 9/11. That was you know weeks and weeks and weeks of clean up messes and odors and disruptions. And I think people are relieved that this is nowhere close to that at all," said New York resident Arthur Ashenorff.
Asa Martensson expressed confidence that all security measures were being taken.
"We cannot let this scare us even though it is terrifying per se but I'm moving around in my city because I love the city and it's the best place to be when something like this happens. So I feel like they're in control of you know how to handle situations. So I still feel safe out here today."
While many New Yorkers are taking a stoical approach, there is evidence of unease with reports and rumours circulating over those responsible and their motives.
Responding to one report the FBI denied arrests had been made in connection with the explosion, stressing that after a vehicle search on a bridge no one had been detained or charged with a crime.