Flash mobs in Budapest one year after migrant fence went up
Comments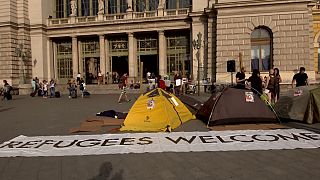 One year after a fence went up on the Hungarian-Serbian border to stop the flow of migrants, flash mobs have turned out in Budapest.
They have been raising awareness of the plight of those who fled their homes, outside the Keleti railway station, where scores of migrants were stranded last year.
Hungary's handling of the crisis has stirred huge political debate.
"In an extremely despicable way, the government uses the topic of migration as propaganda and to get voters – despite the fact that less and less asylum seekers can get into the country," said Aliz Pocsuvalszki, an activist with the MigSzol group.
Prime Minister Viktor Orban took an anti-immigration stance as the migration crisis bit last year.
Hungary was the main entry point into the EU's border-free Schengen zone for migrants travelling by land, until Orban shut the Croatian and Serbian frontier.
Budapest's approach has been slammed by the UN's refugee agency and other rights organisations.
In early October, Hungary will hold a referendum on whether to accept any future EU migrant quotas.
Government billboards have gone up, warning "don't risk our future" and "let's vote with No."
Turnout needs to be at least 50 percent for the poll to be valid.
Euronews correspondent Andrea Hajagos reported from Budapest: "Around two weeks before the referendum, most of the polls show that it is still uncertain if it will be valid, with enough valid votes.
"But one thing looks sure, most of the people likely to vote will vote for NO, what the government is calling for in the campaign."