UKIP elects Diane James as leader
Comments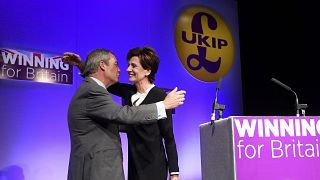 Britain's UK Independence party, which played a major role in the country's recent vote to leave the EU, has elected a new leader.
Diane James becomes the first woman to head the party after securing nearly half the votes in what was a divisive leadership battle.
Welcomed on stage by outgoing leader and ally Nigel Farage, the former business woman and MEP heralded UKIP's success in delivering Brexit.
''We really did move mountains in that political landscape. And we might well have been handicapped by a flawed, quite frankly, morally bankrupt first past the post system. But absolutely nobody can take away from UKIP – United Kingdom Independence Party – the disruption we've caused," James said.
Farage announced his resignation as leader after the Brexit referendum. Since then the party has since descended into feuding and the outgoing chief urged party members to unite behind the new head.
I'm right behind DianeJamesMEP</a> and I urge all in UKIP to support her. <a href="https://t.co/MApuwm6TrP">pic.twitter.com/MApuwm6TrP</a></p>&mdash; Nigel Farage (Nigel_Farage) September 16, 2016
Speaking on Britain's vote to quit Europe, James insisted it was the job of the party to make sure there was no ''Brexit-lite''.
Accusing Theresa May, who she branded Magpie May, of stealing UKIP's policies, she also told the prime minister to get on with invoking Article 50.
James became frontrunner to win the leadership race after Steven Woolfe, also a Farage ally and the favorite to win the contest, was excluded because he missed the application deadline by 17 minutes.