Hinkley Point C nuclear plant gets green light from UK government
Comments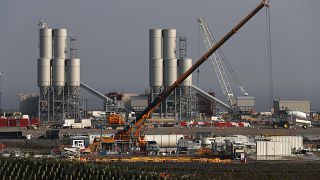 The British government has approved a 21 billion euro nuclear power station after securing "significant new safeguards" for future foreign investments.
It comes after Prime Minister Theresa May paused the signing of the deal over concerns about Chinese investment in the UK's nuclear industry.
A spokesman for the prime minister said: "We are proceeding on the basis of robust new safeguards that will enhance security at Hinkley."
He said the project was a "good deal" for consumers and would help secure Britain's energy supply for decades.
China General Nuclear Power Corp is "very happy" with Britain's decision to approve the construction, the company said on its official Weibo microblog.
The new plant in Somerset in the south west of England is being financed by French company EDF,
although the deal was only narrowly approved by EDF's board because of concerns the up-front costs could jeopardise the firm's survival.
The Chinese government had pledged seven billion euros, on the basis that it would then be allowed to lead a Chinese-designed power plant in Essex, east of London.
Hinkley would be the first new nuclear reactor built in 20 years, and is set to create an estimated 25,000 new jobs.
However, critics pointed out that the electricity price promised to French energy firm EDF was set too high.
Britain should cancel Hinkley Point and spend the billions on making renewables work https://t.co/FiH0lh1b4Xpic.twitter.com/1N9S8ESu6K

— The Economist (@TheEconomist) September 15, 2016
The two new reactors at Hinkley Point are intended to provide around seven percent of Britain's electricity, helping to fill a supply gap as the country's coal-fired power plants are set to close by 2025.
Britain has committed to pay a minimum price for the power generated by the plant for 35 years and there has been no renegotiation of the price, even though it was calculated before oil prices fell, which has significantly reduced energy costs.