Britain and China sign landmark nuclear deal
Comments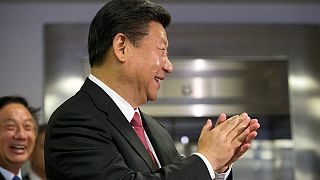 Chinese President Xi Jinping and British Prime Minister David Cameron witnessed a number of investment agreements on Wednesday (Oct. 21), including one to finance nuclear power stations in Britain.
The agreement is the first major Chinese investment in a Western nuclear facility. China's General Nuclear Corporation (CGN) will take a one-third stake in the planned 18 billion pound Hinkley Point nuclear plant in southwest England, controlled by France's EDF.
State owned CGN will also take a two-thirds stake in the Bradwell nuclear plant east of London, where it plans to build a Chinese-designed reactor, and a one-fifth stake in a project for Areva-designed reactors at the Sizewell plant.
However critics are still asking Cameron awkward questions about China.
"I totally reject the idea that you either have a conversation about human rights and steel, or you have a strong relationship with China. I want both and we are delivering both and it is when you have that strong relationship and the strong partnership that we have, you are able to discuss all of these issues," defended David Cameron.
China's Xi turns to money and politics in Britain after a day of pomp: LONDON (Reuters) – Chine… https://t.co/8YmySeoV16 – via Reuters</a></p>&mdash; Adam#Codes (adamuabu) October 21, 2015
But President Xi's four-day state visit comes as thousands of job losses have been announced in the UK steel industry with Chinese cheap imports being blamed.
Even so British officials say the rise of China is impossible to ignore and David Cameron is pitching Britain as the pre-eminent Western gateway for Chinese investment.
The remainder of Chinese state visit
Thursday – President Xi visit global satellite communication services company and later have dinner at the prime minister's country residence Chequers
Friday – the Chinese leader will visit the University of Manchester and attend an event at Manchester Airport before departure.