Syria truce 'largely holding' but aid deliveries could suffer delays
Comments
By
Euronews
with
Reuters, SANA, The Guardian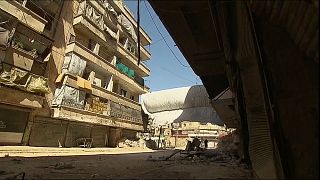 The Russia-US-brokered ceasefire which took effect across Syria from Monday night appears largely to be holding.
By early Tuesday evening there had been no reports of death or injuries, however there have been claims of fresh violence in some areas.
Syrian state media claim armed groups violated the truce in Aleppo city and in the west Homs countryside. While shellings by pro-government forces took place in south Aleppo and on the outskirts of the capital, Damascus, according to the Britain-based Syrian Observatory for Human Rights.
This is Moscow and Washington's second truce attempt in Syria this year. The ceasefire aims to stop forces loyal to Syrian President Bashar al-Assad and US-backed rebel groups fighting to oust him from attacking each other.
It's hoped their joint focus will turn to combatting ISIL and other jihadist factions.
Aid deliveries
For now, the main aim is to deliver aid to the worst-affected areas.
"The most critical test for this plan will be its ability to make a real difference in the life of Syrians on the ground. The first order of business for the sponsors of the plan… should be to act immediately in support of the restoration of humanitarian access to besieged and hard to reach areas," said Jesse Chahine, spokesperson for the UN's Special Envoy for Syria
That could be easier said than done. Syria's state news agency SANA says the government will reject any aid deliveries to besieged Aleppo unless they have been coordinated with it and the United Nations.
SANA reports the restrictions particularly apply to aid convoys arriving from neighbouring Turkey.
Some 20 trucks have crossed the border into northern Syria, some 40 km west of Aleppo, Reuters says. According to a Turkish official, the convoy was mostly carrying food and flour.
The United Nations says its trucks have not yet entered the civil war-torn country. It is said to be awaiting confirmation that the ceasefire is definitely holding, before moving in with aid.