MEPs grill Britain's "last EU commissioner"
Comments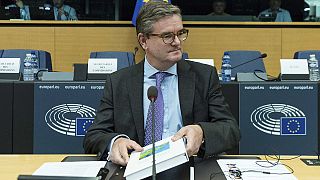 Britain's so-called "last EU commissioner" has promised to serve "only the European general interest" if EU lawmakers accept him for the job.
Julian King who has been nominated to take the UK's vacant seat on the bloc's executive, sought to reassure MEPs in the light of the June Brexit referendum when Britons voted to quit the EU.
"For the avoidance of any doubt, I'd like to make absolutely clear that – subject to confirmation – I will fulfil my tasks to the best of my ability serving the European general interest, and only the European general interest," Julian King, told MEPs.
But while King's competency was not in question the portfolio assigned to him, that of the new post as EU security commissioner, has certainly raised eyebrows.
Dutch liberal MEP Sophie in't Veld voiced her concerns:
"This is an area where the UK has an opt out, since many years and there is a Brexit. The UK has declined the presidency of the EU. Before we vote on this we would like to have a little bit of political context here. How should we see this, so Mr Juncker please clarify the allocation of portfolio."
European Commission President Jean-Claude Junker told lawmakers Julian King has considerable personal experience, including as a civil servant responsible for Northern Ireland and as ambassador to Dublin. The choice of portfolio is also one that he sees as an area in which London will continue to work closely with Brussels even after Britain has left the EU.
With the fight against terrorism being a vital part of security King also stressed that Britain in or out of the EU had a shared interest in tackling the threat.
Reporter Sandor Zsiros who was in Strasbourg for euronews said MEPs will decide on Thursday (Sept 15) if they support the British candidate or not.