Pneumonia forces Hillary Clinton to cancel California campaign trip
Comments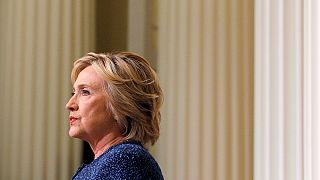 US Democratic presidential candidate Hillary Clinton has cancelled a two-day campaign trip to California, after being diagnosed with pneumonia.
Her near collapse at a 9-11 memorial ceremony in New York on Sunday has raised an element of uncertainty about her health less than two months before the election.
Clinton became 'overheated' at a ceremony at Ground Zero, her campaign spokesman said.
Hillary Clinton 9/11 NYCpic.twitter.com/q9YnsjTxss

— Zdenek Gazda (@zgazda66) 11 de septiembre de 2016
A video shows her slumping before being helped into a waiting secret service van as she leaves the event.
Her doctor, Lisa Bardack, said in a statement that she has been experiencing a cough related to allergies and that an examination on Friday showed that she was suffering from pneumonia.
Hillary Clinton has left her daughter's apartment, where she headed after leaving the Sept. 11 commemoration early. pic.twitter.com/iyGHMfNI0R

— NPR (@NPR) September 11, 2016
It comes at a crucial time in the White House race against Republican rival Donald Trump, and is likely to see renewed calls for both presidential candidates to reveal more about their health.
The first of three televised debates is in two weeks' time.
Clinton, 68, had surgery in 2012 for a blood clot, although her doctors say she made a full recovery.
Two years her senior, Trump had previously questioned how fit she is for the presidency. In August the former Secretary of State's personal physician declared her "in excellent health."