The claws are out: Clinton and Trump fight war of words as US election approaches
Comments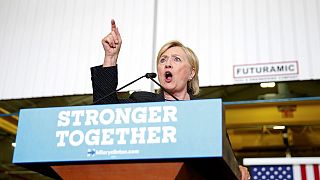 As the US election draws ever nearer, the put-downs are becoming ever stronger.
Democratic nominee Hillary Clinton openly criticised her Republican rival Donald Trump for an interview he gave to the Moscow-funded RT news channel.
"It's not a serious presidential campaign and it is beyond one's imagination to have a candidate for president praising a Russian autocrat like Vladimir Putin," Clinton told her supporters.
She said half of those backing Donald Trump in the November 8 vote belonged in a "basket of deplorables," of people who were racist, homophobic, sexist, xenophobic or Islamophobic.
Let's send Donald Trump a powerful message on Election Day. https://t.co/tTgeqxNqYm#LoveTrumpsHatepic.twitter.com/lVvhZhDdP9

— Hillary Clinton (@HillaryClinton) September 9, 2016
Trump, who in 2015 said of the Russian president "I think in terms of leadership, he's getting an A," retaliated. Not for the first time, the property mogul took to Twitter to respond, saying "I think it will cost her at the Polls!"
Wow, Hillary Clinton was SO INSULTING to my supporters, millions of amazing, hard working people. I think it will cost her at the Polls!

— Donald J. Trump (@realDonaldTrump) September 10, 2016
He criticised Clinton for North Korea's latest nuclear test, saying his opponent should have put a stop to Pyongyang's nuclear programme during her time as Secretary of State.
"Her policies have produced only death, destruction and not diplomacy. … Personally, I think she's an unstable person," he said.
Polls suggest Clinton's former likely eight-point lead has disappeared, although she is still favoured to win the presidency, for now.